Tuesday Talk: DIY Photo Booth
Hi everyone,
Today is Tuesday Talk which means I'm linking up with Ashley and Erika to discuss a topic of my choosing.
I have discussed blenders (super fun) and movies I have on repeat. Today, I'm discussing something really random but also quite fun! Today is about making your own photo booth!
---
The weekend before last, I attended my ten year high school class reunion. Part of my task was to come up with a photo booth backdrop. At the time, I really did not know what I had committed myself to! Naturally, I waited until last minute to do my shopping and purchase the necessary materials.
Party City was my first stop. They had a bunch of different plastic backdrops that could be simply attached to the wall with tape or 3M adhesives. Initially, I thought this would do. However, the more I considered it, I highly doubted the venue (a respectable winery) would have a blank wall nor would they allow me to tack up something on their wall. Turns out later, I was right.
I had seen a photography backdrop stand on Walmart's website and I eagerly entered the store ready to buy it. Unfortunately, it was only available online. I started looking up other alternatives on my phone while slowly realizing I was not going to find what I was looking for. Briefly, I considered an alternative: I had seen a makeshift photo stand on Pinterest comprised of PVC pipes, however given the time parameters, this simply would not do. Desperate for a solution, I paced the aisles while calling Shay on the phone for ideas.
Soon, I found myself in the home section of Walmart with all of the laundry items. I stumbled across a clothing rack. Though it seemed short, I was impressed that it was expandable. For $40, I was very grateful for this miraculous find and determined to make it work.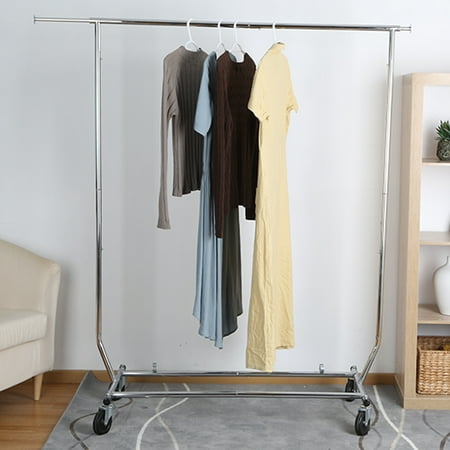 Minimal tools were involved so it didn't take me long to piece it together. To make a backdrop, I bought a two packs of 2 pack curtain panels for about $10 each. I chose a pack of black darkening panels and a fun red/cream pattern (school colors were red and black). The curtains slid perfectly onto the poles and only a little bit hung off at the bottom. Wheels were an added bonus for the rack so it was easy to move and I did not have to worry about it falling over. The only downside is that taller folks need to squat down a little- it's just a little over 6 feet tall. However, you could place some phone books (if anyone still has those), bricks, or other books underneath the wheels for added height.
You don't have to use curtain panels but it was cheaper than buying a bunch of fabric at Hobby Lobby and then creatively clamping it onto the poles. Bedsheets might work but they may be more see through. You can also create a little banner or hang lights across the rack. Eventually, I want to find some picturesque glittery fabric for Christmas and New Year's.
For props, Party City had plenty of photo booth props (with different themes!) and I just used a covered card table to display the props. Dollar Tree also had a couple of fun things to supplement like beads, swim goggles, and hats. They have some many knick knacks with their seasonal decorations so it would be easy for me to collect for different occasions.
Not only did I utilize the photo booth for my class reunion but I decided to use it for my father-in-law's 60th birthday party! Mexican food was catered in and I had found some fiesta-themed props at Party City. It was a fun form of entertainment to lighten the mood at the party.
---
So there you have it! This is just one way for constructing a DIY photo booth that is perfect for parties and special events. Best part is….the pieces all go back in the box!
Now to start collecting props!
---
---