Perfect Summer Supper I
Hi all,
So I really couldn't come up with a good title for today's dishes. I was tempted to call it the Trader Joe's/Town Talk Alliance Epic Summer Grill Meal For Areas With Scorching Hot Temperatures but the selected title (though boring) was all I could come up with at the last minute. Plus this title is a bit too long…
Going to Trader Joe's and Town Talk been apart of my Saturday morning routine. Town Talk has most of the produce I need at dirt cheap prices and Trader Joe's helps me round out menus with their awesome products. 
Earlier this month, Shay received a Nexgrill Deluxe his birthday present. Needless to say, we've been eating pretty well! So here are two great summer suppers that we made this weekend!
---
Shay's Way: Grilled jalapeno chicken sausage, mozzarella and parm macaroni and cheese, roasted cherry tomatoes, and grilled onions
Shan's Plan: Carrot spiral noodles with pesto and roasted tomatoes, veggie patties, and cruciferous salad
---
Shay's Perfect Summer Supper
Items for the Grill:
1 package of Spicy Jalapeno Chicken Sausage

1 yellow onion, roughly chopped (into eighths)

1 heaping tbsp margarine

Garlic salt

1 or 2 containers of cherry tomatoes

PAM spray or EVOO
Take chopped onions, season, and plop your margarine on top. Wrap your onion pieces in two heavy duty pieces of foil (see pic below). Grill at a high setting for 35 minutes total, flipping the wrapped onion halfway. Cook your chicken sausage on a medium setting until browned (or charred for Shay) according to package directions. Generously spray a grill basket with PAM (before placing the basket on the grill) and place your cherry tomatoes (whole) on the basket. Generous season with Everything But the Bagel Seasoning. Cook the tomatoes on a low setting for about 20 minutes and on a medium setting for about another 10 minutes. Rotate/flip the tomatoes as you cook.
Here's the style of grill basket we have (from BBB):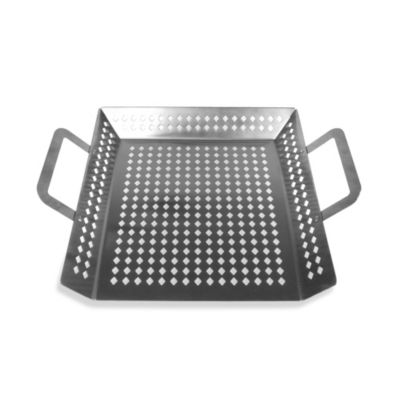 Mozzarella and Parm Macaroni and Cheese:
3 cups uncooked macaroni noodles

1 to ½ cup freshly shredded mozzarella cheese

½ cup parmesan cheese

⅓ cup milk (we used 1% milk)

1 tbsp butter

Cracked Black Pepper

Salt to taste

Red Pepper Flakes (optional)
Bring water in a pot to a boil. Cook noodles until al dente and drain. Add butter, cheeses, milk until well combined. Add plenty of cracked black pepper, some salt to taste, and a few red pepper flakes if desired.
---
Shan's Perfect Summer Supper
1 package of Carrot Spirals

Vegan Kale, Cashew, Basil Pesto

Grilled Cherry Tomatoes

Cauliflower and Broccoli Vegetable Patties

Cruciferous Salad
Cook package of carrot spirals according to the package directions. Add desired amount of pesto once the spirals are cooked and tender. Add grilled cherry tomatoes. Bake patties according to package directions and serve on the side with some cruciferous salad.
---
So that was our perfect summer supper!!!! So easy and delicious!!
Trader Joe's FTW,
---
---