Friday Favorites 11.16.2018
FRIDAY YOU'RE HERE!!!!
Hi everyone! I've been waiting for this Friday for a while now! Today is a special day as it's my Mom's birthday!!!! HAPPY BIRTHDAY MOM I LOVE YOU!
For today's Friday Favorites (linking up with Erika, Narci, and Andrea), I thought I would share some of my favorite finds from the leaked Black Friday ads. Yes, I am THAT person who is searching for the ads starting in September.
Black Friday Shopping has been a family tradition since as long as I can remember. When I was young, my parents, brother, grandparents, and I would travel across town to the Houston Galleria. We typically shopped all morning before going somewhere for lunch.
As we all have gotten older, the tradition has slightly shifted. Any willing Black Friday volunteers will venture out at the crack of dawn while others will sleep in and meet up for lunch.
SO HERE GOES!
---
Target/Kohls
Target's Black Friday ad is actually featured on their website already.
This will not be for me since I have a fear of them but many of you have been investing in Instant Pots. Target will have theirs on sale for 69.95! Plus, you will receive a free $10 Target gift card. Score!
Also…Kohl's will have the Instant Pot at the SAME price but you will receive $15 Kohl's Cash!
Shay has these speakers and enjoys them. Great price for a waterproof and bluetooth speaker! Also, I hate to rag on Target but Kohl's will have these at the same price plus $15 Kohl's cash back!
Those ancestry DNA kits will be on sale. I'm debating on whether or not to purchase one for myself. Am I really Irish all the way?? The kit will be on sale for $59 but you also receive a $10 Target gift card.
Our new wooden floors have really shown us how much Stetson and Shelbie shed! It's time for us to invest in a robot vacuum device and pray the dogs won't think it's a toy! The Shark ION will be $199 as well as this Roomba. Which one should I get?
---
American Eagle
I will also peruse American Eagle online because they will have 40% plus free shipping. Since Shay is quite tall, they have the sizes that he needs. I really like this long sleeved top for him. Hopefully he will not see this…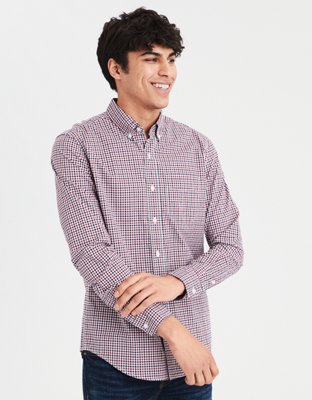 ---
Micheal's
I also go to Michael's for all of my Christmas decor and small gift needs. And…. I will purchase my 2019-2020 planner here! They have lots of pretty wrapping paper, ribbon, and fun little trinkets to put all around your house! Michael's is a great place to purchase stocking stuffers as well. They have bins full of items that cost $1-$2 each and they are usually items such as notepads, hand lotions, or candles. Pretty much everything will be 50-70% off plus they'll have coupons for a percent of your entire purchase. Score!
Bed Bath and Beyond 
Bed Bath and Beyond will have 20% off coupons for entire purchases. Nuff said!
Home Depot
In addition to all of the typical retail stores featuring sales, we also go to Home Depot. Everyone and their mother is there on Black Friday at 6:00 AM to buy poinsettia plant! My sister-in-law informed our family of this deal several years ago and we have been buying the plants on Black Friday. They are 99 cents per plant and make wonderful little Christmas gifts and are great to have around the house!
---
What is on your Black Friday shopping list this year? Let me know!
Have a great weekend!
---
---