Netflix/Prime Holiday Movies Part 1
Hi friends,
I'll have a recipe coming next week since we were out of town last week.
Over the past several weeks, I've been indulging in many of the classic as well as the Hallmark-ish Christmas movies that Netflix and Amazon Prime have to offer. Some are pretty cute though most are really sappy. Have you watched any of these movies?? Let me know in the comments below!
Also…. the random picture above was too funny not to share 🙂 A little Christmas humor!
---
White Christmas
My all-time favorite Christmas classic. Can't get enough of this movie! Bob Wallace and Phil Davis, a very famous dancing and singing duo and former WWII army pals follow two girls to a Vermont inn to perform for the holidays. Upon arriving, they discover their former army commander runs the inn and has fallen on some hard times. Find out how Bob and Phil attempt to help the general and juggle the complications of romance on the side.!
How This Grinch Stole Christmas
Hard to believe this movie is 18 years old. I was 10 when my late grandparents took me to see this movie. I feel like I don't need to recap this movie because everyone has seen it! Are you all interested in seeing the new Grinch movie? I want to but feel I would betray Jim Carrey in the process!
Christmas With the Kranks
Also known as John Grisham's "Skipping Christmas," Luther Krank convinces his wife Nora to skip Christmas. Their only daughter is away in South America which makes for a lonely holiday. Luther decides they will forgo all Christmas related activities and instead take a Caribbean cruise. Their friends and neighbors are beyond shocked and annoyed. When their daughter calls to say, "Hey, I'm coming home for Christmas," the parents panic and try to bring Christmas back.
Christmas Inheritance
An engaged heiress is sent to her father's small town to deliver an annual Christmas letter to her father's longtime pal. There is a catch! Her father only gives her $100 to pay for her travel fees, food, and lodging. Found out how she survives and who helps her along the way 🙂 I thought this was a sweet movie!
Merry Kissmas
This movie was a hoot. Mainly because Doris Roberts (or Marie from Everybody Loves Raymond) makes a guest appearance as a cougar. Two strangers unexpectedly kiss on an elevator underneath the elevator's mistletoe and slowly begin a relationship. Of course, there are complications. One of the strangers is engaged to a very self-absorbed and outrageous dance choreographer and their relationship is on the rocks. Regardless of all the drama, this story is a cute one nonetheless.
Holiday Break Up
Oh My Goodness. This movie above drove me insane at times. This guy and girl meet after she rear ends him and begin dating. The guy is working for his family and the family in general seems to be very serious. The girl has a very child-like personality and at times, it was almost too much for me to handle. They breakup around the holidays but decide to "fake it" around the family for the holiday gatherings. Ultimately, do they remain broken up or get back together? Find out…
George Balanchine's The Nutcracker
If you have children, this would be a good introduction to The Nutcracker. The New York City Ballet plus Macaulay Culkin give a great performance. It took me a minute to realize I was only three when this was released. Cute family film for all ages!
Christmas With a View
This was a sweet little Christmas film. A ski resort in the mountains hires a celebrity chef for their restaurant. The female manager there is not too thrilled about it and clashes some with the chef. However, both the chef and manager end up finding commonalities and sparks fly between them! If you ask me, the actors look quite adorable together!
Holiday Engagement
A woman fresh from her broken off engagement decides to hire an actor to stand in as her fiancé for the Thanksgiving holiday. A lot of this has to do with disappointing her mother (who knows how to bring on the pressure for this poor girl). Does the family discover this guy's a phony? Does the woman end up falling for the actor? Stay tuned 🙂
The Spirit of Christmas
This was a very interesting movie except for I obviously don't know too much about ghosts and that sort of thing. This young lawyer travels to an old inn in Vermont to supervise the sale. Despite being warned by the current owner, she disobeys and decides to stay in the haunted inn alone. Bad move, chick! While there, she is haunted by what appears to be a ghost in human form. In the upcoming days before Christmas, she ends up falling for this ghost and attempts to help him uncover how he died (presumed murder).
Princess Switch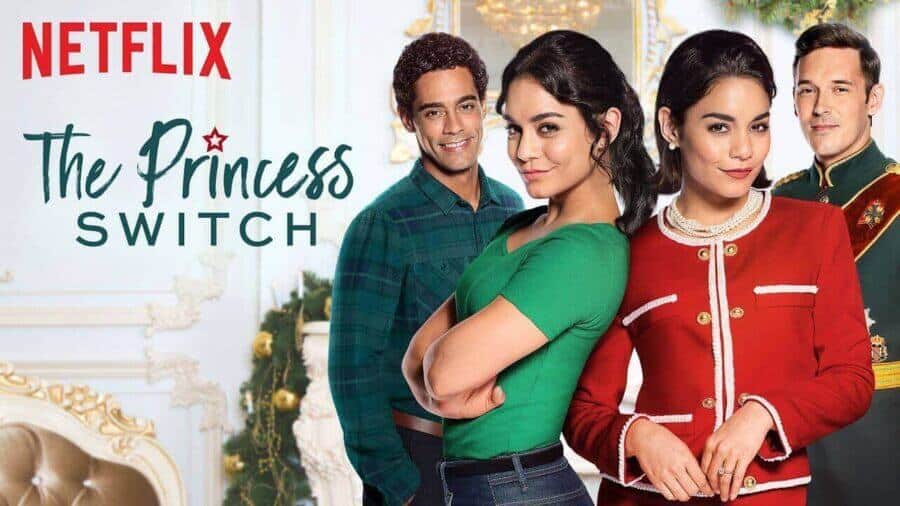 This famous Chicago baker is invited to a famous fictional country to participate in a world- renowned baking competition. While there, she literally runs into her look-alike who happens to be engaged to the prince of that country. It's obvious the princess-to-be has super cold feet and suggests the two of them switches so she can experience some form of normalcy. They switch and the fun begins… Find out what happens once they are discovered!
Christmas Crush
I rolled my eyes constantly through this movie. It was like Mean Girls meets Romy and Michele's High School Reunion. This girl comes home for her high school reunion which is held at the school at Christmas time. She is determined to win the heart back of her old high school flame with mixed support from her "best friends" (I think they annoyed me the most). However, she may or may not discover romantic feelings for her male best friend…
---
I'll be posting a part 2 as I work my way through more movies!! Which ones should I watch next on Netflix or Prime?
---
---